Nouvelles recherches sur la poétesse Debora Ascarelli. Juifs, chrétiens et convertis dans la Rome de Clément VIII
New research on the poetess Debora Ascarelli. Jews, Christians, and Converts in the Rome of Clement VIII. Until now, all that was known on Debora Ascarelli, probably the first Jewish woman to have her book published (Venice, 1601), was available in her book. This paper presents a new sum of information about her, identifying her as Debora Corcos, the daughter of Ugo and sister of Gregorio Boncompagni, the most famous converts of the reign of pope Gregory XIII. Being married first to Isac Goioso, then to Joseph Ascarelli, and the mother of nine children, she remained a Jew, in spite of the baptism of a great number of her relatives under the patronage of the Curia and the spiritual tutoring of the congregation of the Oratory. The rapt of her four younger children in November 1604 (a case of conversion invitis parentibus, which divided the cardinals of the Congregation of the Council) was certainly the turning point of her life. This paper shows the complexity of the factors that could be an incentive or an obstacle to crossing the religious boundary, in a context of strong pressures on the Jews of Rome.
Jusqu'à présent, Debora Ascarelli, probablement la première femme juive dont le livre ait été publié (Venise, 1601), n'était connue qu'à travers son ouvrage. Cet article présente sur elle un ensemble nouveau d'informations, l'identifiant comme Debora Corcos, fille d'Ugo et sœur de Gregorio Boncompagni, les convertis les plus célèbres du règne de Grégoire XIII. Mariée à Isac Goioso puis à Joseph Ascarelli, et mère de neuf enfants, elle resta juive malgré le baptême de nombreux membres de sa famille sous le patronage de la Curie et le tutorat spirituel de la congrégation de l'Oratoire. L'enlèvement de ses quatre plus jeunes enfants en novembre 1604 (un cas de conversion invitis parentibus qui divisa les cardinaux de la congrégation du Concile) fut sans doute le tournant de sa vie. Cette étude montre la complexité des facteurs qui pouvait favoriser ou contrarier le franchissement de la barrière religieuse, dans un contexte de fortes pressions sur les juifs de Rome.
Fichier principal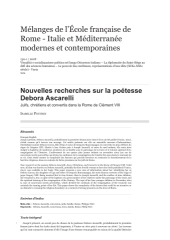 2018_Poutrin_Nouvelles recherches sur la poétesse Debora Ascarelli.pdf (885.58 Ko)
Télécharger le fichier
Origin : Files produced by the author(s)