Le lion du Bubasteion à Saqqara (Égypte). Une momie remarquable parmi des momies de chats
The lion of Bubasteion to Saqqara (Egypt).An uncommon mummy among mummies of cats If a publication revealed the discovery of a lion's skeleton at Saqqara (Callou et al. 2004), it was not possible to publish all the information. This article aims at filling this gap and discusses the results in the light of new evidence. The skeleton discovered at the second level of the Maia's tomb, Princess Meritaten, sister of the king Tutankhamun (Zivie 2009), belongs to a male adult who is at least 9 years old. Several indications support the idea that the body had been mummified. In the absence of radiometric dating, the stratigraphic position assigns the deposit of this large mummy (approx. 1.50 m) to the Ptolemaic and Roman periods. The animal lived many years in captivity, in poor conditions, particularly in terms of food. Indeed, there are no teeth in good preservation on the jaws; teeth are fractured and present signs of chronic and old inflammation. Fractures on the right ribs and on some thoracic vertebrae show also that the animal has suffered at least one fall. This skeleton of a lion, animal whose geographic origin is unknown, is the first to be whole discovered in Egypt.
Si une première publication avait révélé la découverte d'un squelette de lion à Saqqara (Callou et al. 2004), il n'avait pas été possible de publier l'intégralité des informations. Cet article a pour objectif de combler cette lacune et de re-discuter les conclusions à la lumière de nouveaux éléments. Le squelette mis au jour au deuxième niveau de la tombe de Maïa, la princesse Méritaton, sœur de Toutankhamon (Zivie 2009), appartient à un mâle adulte âgé d'au moins 9 ans. Plusieurs indices supportent l'idée d'un animal certainement momifié à l'origine. En l'absence de datation radiométrique, la position stratigraphique permet de rapporter le dépôt de cette grande momie (env. 1,50 m) aux périodes ptolémaïque et romaine. L'animal a vécu de longues années en captivité, dans des conditions peu favorables au moins du point de vue alimentaire. Il n'existe en effet aucune dent intacte visible sur les mâchoires, toutes sont facturées et sont associées à des remaniements dentaires et osseux évocateurs de processus inflammatoires chroniques anciens. Des fractures sur les côtes droites et certaines vertèbres thoraciques révèlent en outre que l'animal a été victime d'au moins une chute. Ce squelette de lion, animal dont l'origine géographique reste inconnue, est le premier à avoir été découvert complet en Égypte.
Fichier principal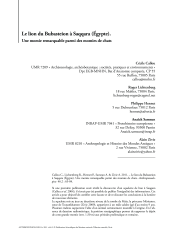 az2011n2a4.pdf (9.45 Mo)
Télécharger le fichier
Origin : Publisher files allowed on an open archive