S7 characterization of Western European pikes Esox spp. (Actinopterygii, Esociformes)
Caractérisation du marqueur S7 des brochets Esox spp. (Actinopterygii, Esociformes) ouest-euro- péens.
The comparison of a 1635 bp fragment of the first intron of the S7 ribosomal protein coding gene, a commonly used phylogenetic marker, for specimens from the three European pike species Esox aquitanicus, Esox cisalpinus and Esox lucius highlights diagnostic sites and indels constituting molecular synapomorphies. Both the sequence alignment and the phylogenetic tree discriminate these three species, even with a short sequence fragment. Three Esox lucius haplogroups can be separated. These haplogroups might correspond to the evolutionary lineages highlighted by previous mitochondrial studies. Finally this study confirms hybridization between Esox aquitanicus and Esox lucius, but also the absence of geographical structure between Esox lucius haplogroups in France following restocking from East European piscicultures. The S7 marker is excellent for molecular identification, and could be used for environmental DNA.
Cette étude compare un fragment de 1635 pb du premier intron du gène de la protéine codante ribosomale S7 d'individus des trois espèces de brochets européens Esox aquitanicus, Esox cisalpinus et Esox lucius. L'aligne- ment des séquences et l'arbre phylogénétique obtenu permettent la discrimination des trois espèces par des sites et des indels diagnostiques constituant des synapomorphies moléculaires. Trois haplogroupes d'Esox lucius ont également été mis en évidence, qui pourraient correspondre aux des lignées évolutives déjà mises en évidence par des études mitochondriales précédentes. Enfin, cette étude a permis de confirmer l'hybridation entre Esox aquitanicus et Esox lucius, mais aussi l'absence de structuration géographique en France entre les haplogroupes d'Esox lucius, due aux repeuplements à partir de piscicultures d'Europe de l'Est. Ainsi le marqueur S7 est excellent pour l'identification moléculaire, y compris pour l'ADN environnemental.
Fichier principal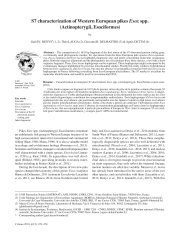 Denys et al 2018 Esox S7.pdf (1.17 Mo)
Télécharger le fichier
Origin : Publisher files allowed on an open archive