Barbatula leoparda (Actinopterygii, Nemacheilidae), a new endemic species of stone loach of French Catalonia
Barbatula leoparda (Actinopterigii, Nemacheilidae), une nouvelle espèce endémique de loche franche en Catalogne française.
This study described a new stone loach species in France, Barbatula leoparda, which is endemic to French Catalonia (Têt and Tech river drainages). Seven specimens were compared to 49 specimens of B. barbatula (Linnaeus, 1758) and 71 specimens of B. quignardi (Băcescu-Meşter, 1967). This new species is characterized by the presence of blotches on the belly and the jugular area in individuals longer than 47 mm SL and by a greater interorbital distance (35.5 to 41.8% of the head length). We brought moreover the sequence of two mitochondrial markers (COI and 12S, respectively 652 and 950 bp) of the holotype, which ar
Cette étude décrit une nouvelle espèce de loche franche en France, Barbatula leoparda, qui est endémique à la Catalogne française (bassins de la Têt et du Tech). Sept spécimens ont été comparés à 49 spécimens de B. barbatula (Linnaeus, 1758) et 71 spécimens de B. quignardi (Băcescu-Meşter, 1967). Cette nouvelle espèce est caractérisée par la présence de taches sur le ventre et dans la partie jugulaire pour les individus d'une taille supérieure à 47 mm LS et par une plus grande distance inter-orbitaire (35,5 to 41,8% de la longueur de la tête). Pour les identifications moléculaires, nous décrivons également la séquence de deux marqueurs mitochondriaux (COI et 12S, respectivement 652 et 950 pb) pour l'holotype, qui sont bien distincts des autres espèces. Cette découverte est importante pour la conservation.
Fichier principal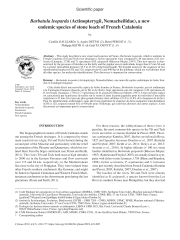 Gauliard et al 2019 Barbatula leoparda.pdf (2.36 Mo)
Télécharger le fichier
Origin : Publisher files allowed on an open archive