Fossil wood from the lower Miocene of Myanmar (Natma Formation): palaeoenvironmental and biogeographic implications
Bois fossiles du Miocène inférieur du Myanmar (formation de Natma): implications paléoenvironnementales et biogéographiques.
The palaeobotanical record of Myanmar (Burma) is poorly documented despite its importance for understanding the evolution of Asian monsoonal ecosystems through time. Here, we describe 20 taxa of fossil wood from 30 silicified specimens collected in the upper lower to lowermost middle Miocene Natma Formation, central Myanmar. These fossils share affinities with modern Fabaceae, Dipterocarpaceae, Burseraceae, Moraceae and Cupressaceae. They include a great variety of fossil dipterocarps (eight species) as found in today's Southeast Asian rainforests. The nearest living relatives of this assemblage reflect different ecotones of seasonal forests with coastal, mixed to dry deciduous, and wet evergreen species. This reconstruction implies a wet, warm, and monsoonal climate in Myanmar during the late early Miocene. The presence of fossil dipterocarp species typical of wet evergreen forests contrasts with Burmese Eocene dry dipterocarp assemblages and indicates wetter conditions during the Miocene. Our reconstructions support a long-term change from seasonal to everwet ecosystems for dipterocarp trees.
Le registre botanique fossile du Myanmar (Birmanie) est faiblement documenté malgré son importance pour comprendre l'évolution des écosystèmes de mousson au cours des temps géologiques. Nous décrivons ici 20 taxa de bois fossile issus de 30 specimens silicifiés de la Formation de Natma (Myanmar central) datant du Miocène inférieur tardif au début du Miocène moyen. Ces fossiles sont affiliés aux familles modernes des Fabaceae, Dipterocarpaceae, Burseraceae, Moraceae et Cupressaceae. Nos spécimens incluent une grande diversité de diptérocarpacées fossiles (huit espèces) retrouvée aujourd'hui dans les forêts tropicales d'Asie du Sud-Est. Les analogues modernes de ces espèces fossiles révèlent différents écotones de forêts saisonnières avec des espèces côtières, de forêts mixtes ou décidues sèches, et de forêts humides sempervirentes. Cette reconstruction implique un climat chaud et humide de mousson au Myanmar durant le Miocène inférieur tardif. La présence d'espèces fossiles de diptérocarpacées typiques de forêts humides sempervirentes contraste avec les assemblages forestiers birmans de l'Eocène, dominés par des forêts sèches à diptérocarpacées, et indiquent des conditions plus humides. Ces reconstructions suggèrent un changement à long-terme des diptérocarpacées d'environnements saisonniers vers des environnements plus humides.
Fichier principal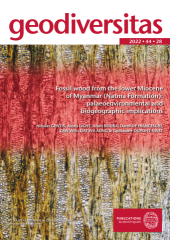 Gentis et al 2022 geodiversitas.pdf (50.36 Mo)
Télécharger le fichier
Origin : Publisher files allowed on an open archive